Coconut Sugar is a whole, pure and natural sweetener
Coconut sugar continues to gain acknowledgement as a healthier alternative sweetener to cane sugar in the global sweetener industry. Being a healthier alternative, is not the only property that build coconut sugar's reputation. Here are the complete properties in coconut sugar that make it a very unique sweetener:
Healthier alternative sugar
Coconut sugar has been acknowledged as a LOW Glycaemic Index (GI, at 35) sweetener, and therefore, it is believed  that coconut sugar is good for diabetics and suitable for weight maintenance (Tablan, 2008; Philippine Coconut Authority, 2004). Coconut sugar is also a natural and unrefined sugar so that it still maintains some of its natural nutrients such as, amino acids, potassium, and minerals. Although this does not mean that per serving size of coconut sugar will provide all of those nutrients to cover your standard dietary need, but for coconut sugar to retain those nutrients on top of it being LOW GI, makes coconut sugar an amazing natural sweetener.
Empowerment
Indonesia has the biggest coconut farm in the world with a total of 3.86 million hectares of coconut farms. This is equal to 31.2% of total coconut farms in the world. Most of coconut farms in Indonesia, which is 97 per cent of the farms belong to small-scale farmers with average an area of one hectare per household. Coconut sugar production in coconut sugar production centre areas is a common source of income for many  of  the  local  households and most production of coconut sugar is a small scale traditional production and the steps and methods rely on experience or indigenous knowledge. Therefore, coconut sugar supply development program is equal to direct and significant effect to the empowerment and uplifting small farmers' livelihood in Indonesia, and at the same time preserving and taking pride of their natural environment and tradition.
Sustainability
Coconut sugar is produced from the nectar of coconut flower (cocos nucifera). The nectar is an all year-round produced material and therefore provides a continuous supply of raw material for coconut sugar production. On top of this, coconut tree is a permanent crop, thus makes it an environmentally friendly crop because it does not need to be cut and burnt down, which means none to a very minimum carbon is released from coconut farming.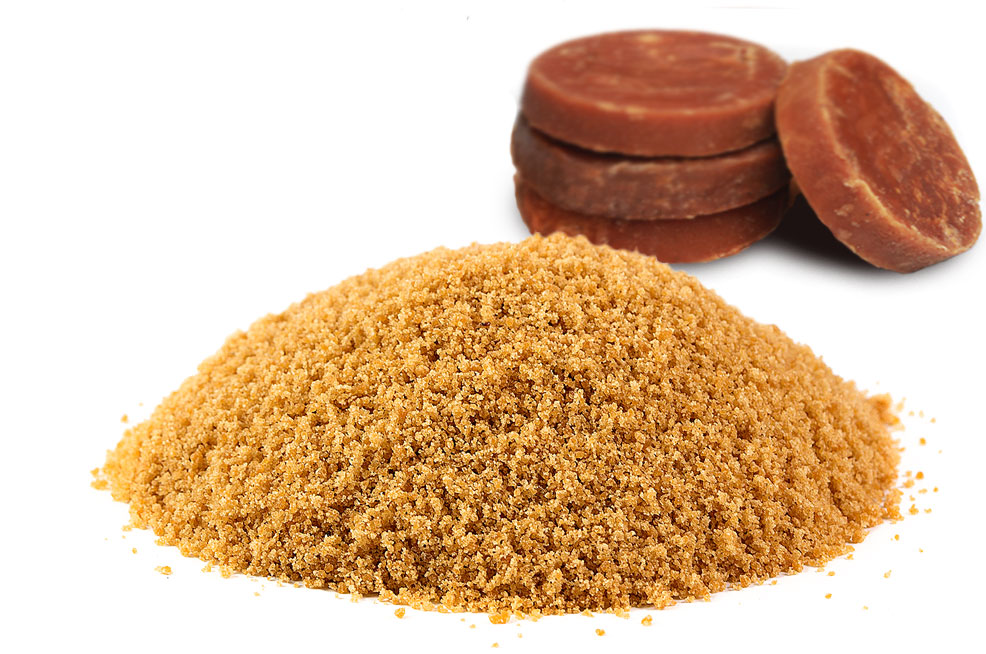 Our coconut sugar is the product of committed empowerment program for a continuous growth for all of our stake holders, especially the small family farmers, and also our strong commitment and integrity for high and consistent quality. As a result, our coconut sugar strongly maintains its integrity as 100% pure, natural, and unrefined sweetener and at the same time, it is clean, very fine, dry, free flowing, and consistent in color.  In short, all that you need to have peace of mind and hassle free coconut sugar.
Our coconut sugar is a healthier alternative sweetener to cane sugar. It is perfect for almost every application; cooking, baking, chocolate making, drinks.. you just name it and see how coconut sugar enhances it for you.
We produce our coconut sugar in regular 18 mesh granulation, superfine powder, and in lumps.
Below is how we pack our coconut sugar products:
| | |
| --- | --- |
| SKU# | FGSG134 |
| Bag Net Weight | 12,5 Kg |
| Bags per Box | 2 Units |
| Box Net Weight | 25 Kg |
| Boxes per Pallet | 48 Units |
| Bags per Pallet | 96 Units |
| | |
| --- | --- |
| SKU# | FGSG126 |
| Bag Net Weight | 10 Kg |
| Bags per Box | 2 Units |
| Box Net Weight | 20 Kg |
| Boxes per Pallet | 36 Units |
| Bags per Pallet | 72 Units |
| | |
| --- | --- |
| SKU# | FGSG140 |
| Bag Net Weight | 12,5 Kg |
| Bags per Box | 2 Units |
| Box Net Weight | 25 Kg |
| Boxes per Pallet | 48 Units |
| Bags per Pallet | 96 Units |
| | |
| --- | --- |
| SKU# | FGSG141 |
| Bag Net Weight | 5 Kg |
| Bags per Box | 4 Units |
| Box Net Weight | 20 Kg |
| Boxes per Pallet | 45 Units |
| Bags per Pallet | 180 Units |
| | |
| --- | --- |
| SKU# | FGSG145 |
| Bag Net Weight | 5 Kg |
| Bags per Box | 4 Units |
| Box Net Weight | 20 Kg |
| Boxes per Pallet | 45 Units |
| Bags per Pallet | 180 Units |