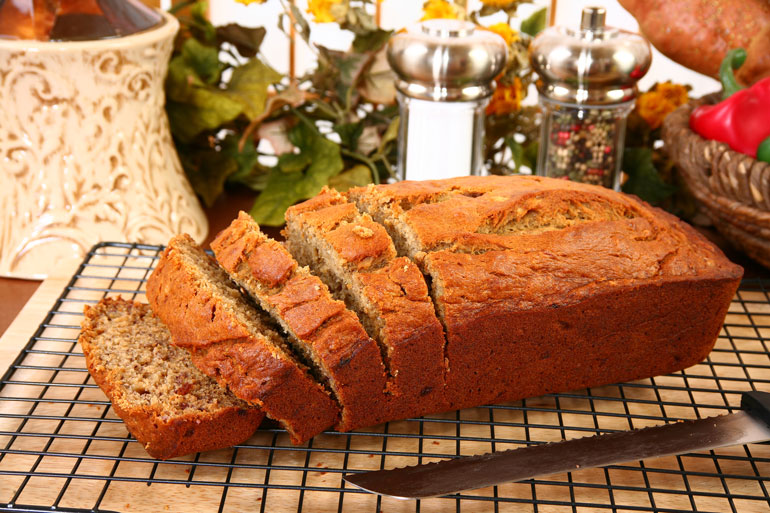 by admin
Banana bread is a type of bread made from mashed bananas. It is often a moist, sweet, cake-like quick bread; however, there are some banana bread recipes that are traditional-style raised breads
Ingredients
2 eggs
1 cup coconut sugar
 1/3 cup canola oil
 4 very ripe bananas
 2 tablespoons vanilla extract
 1 teaspoon baking soda
 2 teaspoons baking powder
 1 teaspoon cinnamon
 1/2 teaspoon nutmeg
 1 2/3 cup flour
 1 cup whole wheat flour
 1 cup plain Greek yogurt
 1 cup chopped walnuts
Directions
 Preheat oven to 350 degrees.
Spray a loaf pan generously with a no-cholesterol cooking spray, set aside.
In a medium bowl, combine all dry ingredients and set aside.
 In another bowl, whisk eggs, oil and sugar together.
Whisk yogurt into 'wet' mixture.
Mash bananas and add to this mixture.
Slowly stir in the dry ingredients until all ingredients are well incorporated.
Stir in walnut until well distributed in the batter.
Use a spatula to scrape all batter into prepared loaf pan.
If the top of the loaf starts to get too brown, make a tent over the top using foil.
Bake for 30-40 minutes or until a knife comes out clean from the center.
Let stand about 10 minutes then turn out onto a cutting board or platter.